Bruce Willis was diagnosed with dementia.
The actor stepped back from his Hollywood career to focus on his health.
Bruce's wife, Emma, has been caring for him ever since his diagnosis.
Bruce Willis is one of the world's most beloved action movie heroes. Yet he has recently stepped back from Hollywood as dementia has left him with severe speech and language issues.
Now, his younger wife, Emma Heming Willis, and the rest of his family are doing everything possible to ensure he is well cared for. Emma regularly updates fans on Bruce via her Instagram page.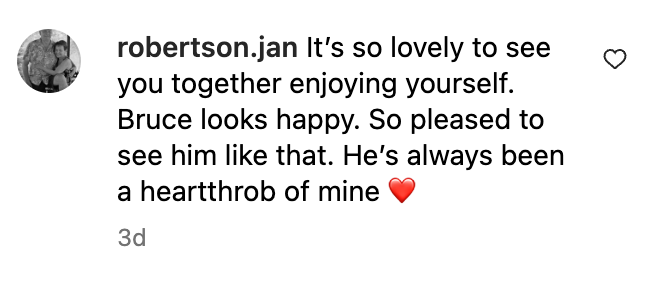 Emma shared a video of herself, her husband, and their daughters on the "Splash Mountain" ride at Disneyland this weekend. The entire family is seen laughing and having a great time together in the video.
In one frame, Bruce wipes his face as he laughs and holds his daughter's hand as they come down the ride. In another, Emma shows her family sitting behind her on the famous Disneyland ride.
Fans were excited to see and hear that Bruce seemed to be doing well. One fan admitted seeing Bruce looking so happy was lovely, and another said she was pleased to see a "heartthrob of [hers]" doing so well. Another addressed Bruce directly, saying:
"Bruce, stay strong; it's good to see you happy."
Some fans said it was beautiful seeing the family enjoying one another's company and "making memories." One fan hoped the family had had the best time and sent their love and best wishes to the family.
Emma and Bruce Share Two Daughters and A Loving Relationship
Bruce and Emma have both confirmed that it was love at first sight for them. While Emma was surprised at how handsome and charming Willis was in reality, he admitted he had been in love with her from the moment he saw her.
The pair tied the knot in 2009 and welcomed their daughters, Mabel Ray and Evelynn Penn. Bruce also has three daughters from his previous relationship with actress Demi Moore. The entire family gets along well.
The couple both had careers but soon realized they enjoyed spending time together and with their children much more than out of the house and working on their various projects constantly.
Although the couple is in love, they have had their share of ups and downs. On their 12th wedding anniversary, Emma quipped:
"Boy, I sure do love this guy to the moon and back! Even though there have been times I would have loved to take him to the moon, drop him off, and come back solo! That's what 12 years of marriage looks like, right? We've had our fair share of floating-on-air ups and disheartening downs. But he is my person."
The former model said there is nobody else that she would instead have done any of this with. She was grateful to him for being her family and for helping her start her own family as she had always dreamed of.
While Emma and Bruce have started their own family, they remain close to Bruce's ex-wife and his children from that marriage. In fact, Demi even attended Emma and Bruce's vow renewal, with Emma saying she couldn't imagine having the ceremony without Demi there.
Emma and Bruce's daughters are growing into fine young ladies, and Emma often shows them off on Instagram. She shared a video of Bruce and one of his daughters dancing outside together.
How Does The Family Support Bruce As He Deals with Frontotemporal Dementia
In March last year, Bruce's family announced that doctors had diagnosed the actor with aphasia and that he would be taking a step back from acting. The condition affects one's ability to communicate effectively.
When the actor's family announced his diagnosis, they thanked fans for their ongoing support and mentioned how difficult it had been for them to learn of and come to terms with it. They shared:
"We are moving through this as a strong family unit and wanted to bring his fans in because we know how much he means to you, as you do to him. As Bruce always says, 'Live it up,' and together, we plan to do just that."
Fans immediately began commenting on the posts, sending the actor their best wishes and words of support. Many talked about how much they would miss seeing him on screen and hoped he would get well soon.
This year, Emma once again took to Instagram to update Bruce's fans on his health. She shared that since they got his aphasia diagnosis, his condition had evolved, and he had been diagnosed with frontotemporal dementia.
Emma confirmed that his communication issues resulted from the disease but that he would also experience other symptoms, and the family was grateful that he finally had a more specific diagnosis.
Now, Emma is working with a dementia specialist to help her husband work through his diagnosis. She has done so to provide her husband with the support he needs throughout this ordeal.
Emma has also pleaded with paparazzi to be respectful of Bruce during this challenging time as she says his quality of life is the family's top priority after he was diagnosed with frontotemporal dementia, also known as FTD.
The former model talked about how hard it was to be out in the world with someone with dementia and mentioned that it could be confusing and frightening for them if they became overwhelmed.
She went on to acknowledge that it was a paparazzi's job to take photos of her husband but politely asked that they keep a respectable distance between them and Bruce as it was stressful for him.
On Bruce's birthday this year, Emma also got candid about feeling a sense of grief and sadness watching her husband deal with the illness. She confirmed she was only so strong because she was not allowed to be anything else.